Inside the San Diego team
pioneering California's red flag law
By Alexei Koseff | CalMatters
Summary: "Red Flag" laws have been slow to take off in many places, but San Diego's program shows how advocates hope gun violence restraining orders can be used to prevent tragedy.
There were four more requests for gun violence restraining orders on Jeff Brooker's desk when he arrived at the San Diego City Attorney's Office that July morning.
Officers had responded to a minor car crash at a mall where the driver, who carried a replica firearm, was rambling delusionally and threatening to kill the "one-percenters" and a public official. Another man, during an argument outside a family member's home, had pulled a gun out of his waistband and pointed it at someone's head as several others looked on.
It was not an unusual number of new cases for the department's eight-member gun violence restraining order unit, which Brooker oversees. In an average week, they triage 30 referrals from local police, reviewing scenarios in which officers believe a resident is at risk of committing gun violence.
About a third of the time — in those instances when the person clearly poses a danger to themselves or others, and they aren't already prohibited from possessing weapons for another reason — the office will petition a judge to temporarily seize their firearms, under a six-year-old California statute that was among the country's first "red flag" laws.
More than 1,250 times since the end of 2017, when San Diego City Attorney Mara Elliott launched the pioneering unit, Brooker's team has successfully filed a gun violence restraining order, leading to the seizure, as of April, of nearly 1,600 firearms from 865 people — far more than any other agency in the state. An estimated one-third of the weapons, most of which are handguns, have since been returned to the owners.
In California, which ranked seventh in the number of cases per capita, San Diego has been a model.
Top Photo: Weapons seized from the home of homicide suspect Vu Thai, who was arrested June 5, 2022, in connection with a fatal shooting in San Jose. Photo courtesy of the San Jose Police Department via AP. Inset: Jeffrey Brooker, the San Diego supervising deputy city attorney, works in his office in San Diego on July 13, 2022. Photo by Raquel Natalicchio for CalMatters
Read more…
Photo: A participant simultaneously tests the new smartphone oximetry technique on their left finger and a standard pulse oximeter on their right finger. (Photo by Chelsea Maples Photography)
A smartphone's camera and flash could help
people measure blood oxygen levels at home
Monitoring the amount of oxygen in your blood could one day be done using your smartphone, according to a study by the University of California San Diego and University of Washington.Having the ability to monitor oxygen saturation at home or on the go could help patients keep an eye on conditions that make it harder for bodies to absorb oxygen from the lungs, such as asthma and COVID-19. These conditions can lead to oxygen saturation percentages that drop to 90 percent or below, an indication that the patient needs urgent medical attention. For reference, healthy individuals have oxygen saturation levels of about 95 percent.
In a proof-of-concept study, researchers showed that smartphones are capable of detecting blood oxygen saturation levels down to 70 percent. This is the lowest value that pulse oximeters—the small clip-on devices used in the clinic to measure blood oxygen levels—should be able to measure, as recommended by the U.S. Food and Drug Administration.
The results were published Sept. 19 in the journal npj Digital Medicine.
Read more…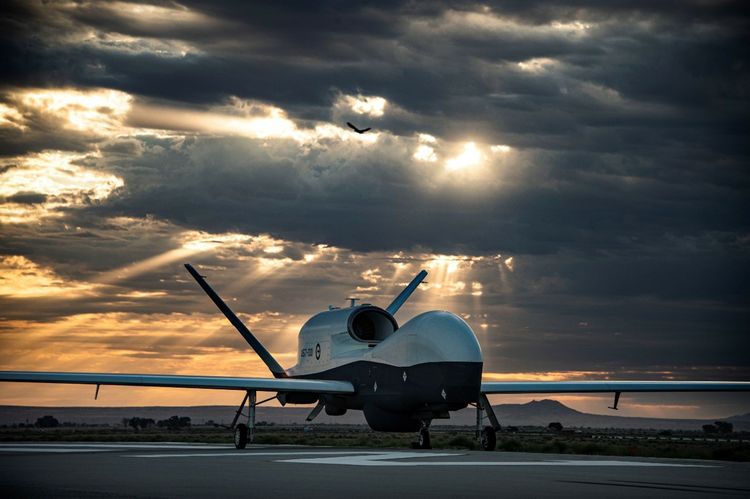 Photo: Australia's first MQ-4C Triton. (Northrop Grumman)
Northrop Grumman unveils first Australian MQ-4C Triton
Northrop Grumman Corporation unveiled Australia's first MQ-4C Triton autonomous aircraft during a ceremony at its high-altitude, long-endurance (HALE) aircraft production site in California. The event, attended by Australian, U.S. government and defense officials, highlights the continued progress of the MQ-4C Triton program for both the Royal Australian Air Force and U.S. Navy.
Australia is a cooperative program partner in the Triton program and was critical in helping shape the requirements for the system. As partners, U.S. and Australian defense forces will be able to share data collected by their respective Tritons, a critical ability in one of the world's most strategically important regions. 
The aircraft is scheduled for production completion in 2023 and delivery to Australia in 2024.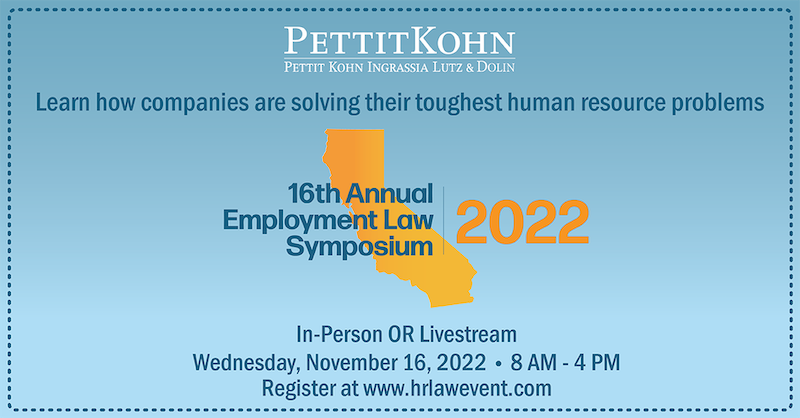 Employment Law Symposium
Sanford Burnham Prebys researcher awarded
$6.4 million to advance treatment for drug disorders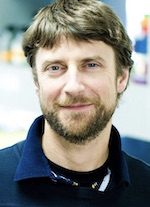 Professor  Nicholas Cosford
Sanford Burnham Prebys Professor  Nicholas Cosford has been awarded $6.4 million from the National Institute on Drug Abuse (NIDA) to test new potential drugs to treat opioid and methamphetamine use disorders. The three-year project will be completed with partners from Wake Forest University School of Medicine and Camino Pharma LLC..
"Misuse of opioids and methamphetamines leading to addiction is a huge and growing problem, both in the United States and around the globe," says Cosford, a principal investigator on the grant and professor at Sanford Burnham Prebys.
"Our goal by the end of this project is to have a drug ready for clinical development, ultimately showing efficacy in patients and filling a major gap in the available treatments."
With the new grant, the researchers will conduct preclinical studies on two potential drug candidates, SBP-1315 and SBP-9220.
These compounds inhibit the transmission of glutamate, a neurotransmitter that plays a central role in many normal and abnormal behaviors associated with drug use and relapse.
Michael Kelly, M.D., joins Rady Children's Hospital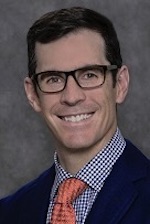 Michael Kelly,
Rady Children's Hospital-San Diego, a national leader in pediatric health care, announced the appointment of Michael Kelly, M.D., as its new director of scoliosis and spinal deformities.
In his new role, Kelly will oversee the development of the orthopedics practice at Rady Children's and work alongside world-renowned surgeon Peter Newton, M.D., chief of the Division of Orthopedics & Scoliosis and surgeon-in-chief at Rady Children's, to ensure patients receive the most advanced orthopedic care.
Kelly joins Rady Children's from Washington University in St. Louis where he was an associate professor of orthopedic and neurological surgery, director of the Fellowship in Adult and Pediatric Spine Surgery, and director of spine research. 
With over a decade of experience practicing medicine, Kelly is one of the nation's leading pediatric orthopedic surgeons and has conducted extensive research focused on improving the quality of care in adult and pediatric spinal deformities through both clinical and translational projects.
Environmental scientist Jessie Ausubel to receive
2022 Nierenberg Prize for Science in the Public Interest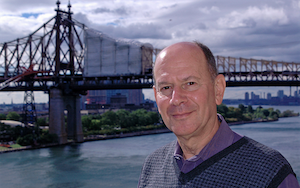 Scientist Jesse H. Ausubel
Renowned environmental scientist Jesse H. Ausubel will be honored with the 2022 Nierenberg Prize for Science in the Public Interest. The award is presented annually by Scripps Institution of Oceanography at UC San Diego and the Nierenberg Family to honor the memory of William A. Nierenberg, an esteemed physicist and national science leader who served Scripps Oceanography as director for two decades. 
The public is invited to attend the 2022 Nierenberg Prize ceremony and a presentation from Ausubel in a free event on Oct. 13 at 6 p.m. at the Robert Paine Scripps Forum for Science, Society and the Environment on the Scripps campus. RSVP here. 
His presentation, "Peak human? Thoughts on the evolution of the enhancement of human performance," will examine whether the human species can continue to improve—much like cars, computers, or other technology—or whether our species has reached its peak.
In a career spanning more than four decades, Ausubel has conceived, developed, and led numerous projects to observe and better understand the environment. 
Read more…
Mayor taps community leaders to lead
dialogue on Civic Center redevelopment
San Diego Mayor Todd Gloria has selected a panel of civic and Downtown community leaders to develop a vision for the redevelopment of the civic core, which comprises six city-owned blocks in and adjacent to the Civic Center.Called the Civic Center Revitalization Citizens Committee, the group will help inform the vision for the redevelopment of the city's central downtown property around City Hall. Following the purchase of the 101 Ash Street and Civic Center Plaza buildings in August as part of a legal settlement, the city now has the opportunity to offer a large, contiguous plot of land for redevelopment under the Surplus Land Act.   
Situated directly on a trolley line, the land has enormous potential to address San Diego's affordable housing needs, along with the office space needs of the city's more than 2,000 Downtown workers and public-serving facilities,  said Gloria.
Click here for the list of community leaders.
Illumina Genomics Forum to feature
Nobel Laureate Frances Arnold
Illumina Inc., a global leader in DNA sequencing and array-based technologies,will convene a panel titled "Clinical Genomics Is Now. Are You Ready?" at its inaugural Illumina Genomics Forum (IGF), moderated by Nobel laureate and chemical engineer Frances Arnold of the California Institute of Technology. The Sept. 28 roundtable will focus on genomics' role in transforming human health and the next steps in bridging research and clinical genomics.
Featuring visionary voices from across the health ecosystem, the panel will focus on groundbreaking applications of genomics in the health care industry today as well as the future possibilities of leveraging genomic medicine at scale. 
Illumina Genomics Forum will take place in San Diego from Sept.28 through Oct. 1. For more information and to register for the conference, go to illuminagenomicsforum.com.
Cubic and Northrop Grumman collaborate
Cubic Mission and Performance Solutions (CMPS) a division of Cubic Corporation, collaborated with Northrop Grumman to successfully demonstrate a High Capacity Backbone (HCB)-enabled Gateway System solution that provides connectivity and processing capabilities to enable Joint All Domain Command and Control and ensure delivery of the right data to the right place, at the right time.
In a recent demonstration, Cubic and Northrop Grumman showcased an interconnected, vendor-agnostic network through Open Mission Systems (OMS) interfaces, proving the ability to deliver significantly enhanced, all domain command and control capabilities to fifth and fourth generation platforms.
Inventor of the Year award goes to developer
of Evofem Biosciences' Phexxi product
San Diego-based Evofem Biosciences congratulates University of Illinois Chicago Professor Emeritus Donald Waller on his recognition as Inventor of the Year for his role in developing novel therapeutics for the improvement of women's health, including Evofem Biosciences' Phexxi (lactic acid, citric acid, potassium bitartrate).
"The driver behind this innovation was to provide women with more control and more options for safely preventing pregnancy and sexually transmitted infections," Waller said. "We started by looking at natural defenses — both against pregnancy and against pathogens, such as gonorrhea and other STIs. We found that many of the mechanisms that allow sperm to penetrate the egg parallel the ability of pathogens to infect cells."
Phexxi, the first innovation in the contraceptive category in decades, was approved by the FDA in 2020 for prevention of pregnancy.  Since Phexxi's initial launch, over 100,000 women have been prescribed Phexxi by nearly 21,000 health care providers.   
Mark Rothera named president
and CEO of Viracta Therapeutics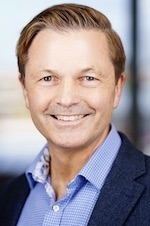 Mark Rothera
Mark Rothera has been appointed president and CEO of Viracta Therapeutics Inc., a San Diego precision oncology company targeting virus-associated malignancies.
He succeeds Ivor Royston, M.D., who will support the leadership transition and continue to serve as a member of the board of directors.
Rothera brings more than 30 years of experience in the biopharmaceutical industry, with a strong record of commercial and global leadership, including driving the successful build of multiple biotech companies, predominantly in the field of rare or specialty diseases. Prior to joining Viracta, Rothera served as president and CEO of Silence Therapeutics, a clinical-stage organization focused on developing RNA therapies for hematology, cardiovascular and rare diseases.
He previously served as CEO of Orchard Therapeutics. 
Fuse Integration joins AWS Partner Network
San Diego's Fuse Integration, a warfighter-focused engineering and design firm, has joined the Amazon Web Services (AWS) Partner Network (APN) as a hardware provider. CORE,
Fuse's ruggedized virtualized networking system, is qualified to run AWS IoT Greengrass, an open-source edge runtime and cloud service for building, deploying and managing intelligent device software. With CORE, APN members and Fuse customers gain the ability to create an Internet of Things (IoT) solution at the tactical edge for ground, air and sea platforms.
"Military devices and sensors require greater interconnectivity, particularly at the tactical edge. Enhancing their ability to operate and talk to each other is paramount for battlefield advantage," said Sumner Lee, Fuse CEO. "We are honored to join APN. Combining AWS services with the innovative CORE design will be a force multiplier to the viability of an IoT solution in austere and challenging environments."
Intrepid Automation introduces 'Valkyrie' systems
Intrepid Automation, a San Diego manufacturing technology company that develops custom, end-to-end solutions for large scale manufacturing customers using 3D print technology and materials, announced this week the launch of the "Valkyrie" system: a large-format, industrial-grade, modular tool for manufacturing customers to quickly scale production of printed patterns, molds, and parts.
"Most 3D print manufacturing processes today are slow, expensive, deliver inconsistent accuracy, and are difficult to scale," says Ben Wynne, CEO of Intrepid Automation. "Our systems solve for all of these challenges."
Valkyrie systems run on Intrepid's patented mDLP technology, a process that uses an array of highly-calibrated digital light sources to project a single image at once, rather than tracing image outlines as is with legacy SLA processes. As part of close partnerships with multiple industrial-scale resin suppliers, the company has been able to develop and validate custom materials for applications in both investment casting patterns (IntrepidCast LF resin family) and rigid part/mold production (Intrepid ThermoRigid resin family) on Valkyrie systems.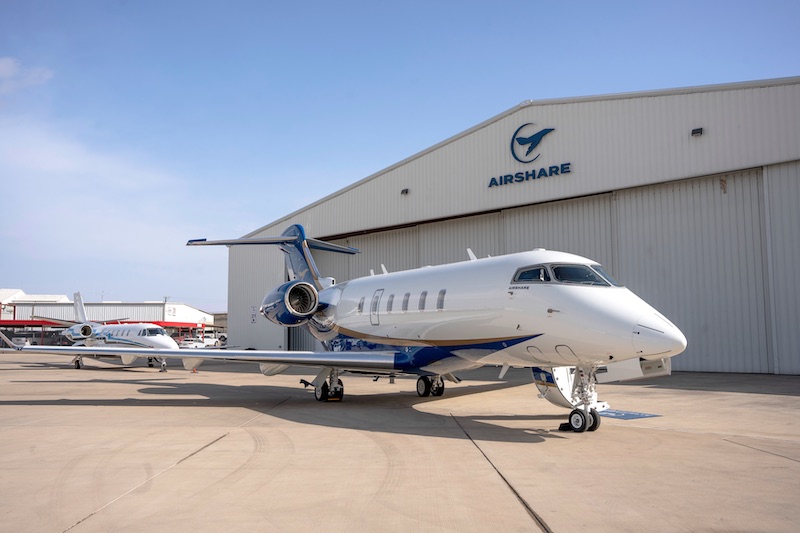 Airshare is expanding its fleet to include the super-midsize Challenger 350 and Challenger 3500 and equipping each of them with Viasat's Ka-band in-flight connectivity system. (Photo: Airshare)
Airshare selects Viasat for Bombardier Challengers
Kansas-based fractional provider Airshare has selected Viasat's Ka-band in-flight connectivity system for its new Bombardier Challenger 350s and future Challenger 3500 deliveries. The first installation on an Airshare Challenger 350 was completed in July, with others to follow over the remainder of the year.
Offering high-speed connectivity during all phases of flight—taxi, takeoff, and landing—Viasat's service allows users to conduct video streaming and conferencing, as well as access corporate VPNs from multiple devices at the same time.
"Excellent connectivity is no longer simply a nice-to-have amenity while in-flight," said Airshare president and CEO John Owen. "Airshare's service demands a reliable connectivity solution that provides fast speeds and a consistent connection from takeoff to touchdown. Our owners want to stay productive, stream video, and otherwise stay in touch with what's happening on the ground. Choosing Viasat for our new deliveries was an important step as Airshare enters our next phase of growth."