Board of Port Commissioners approves
Sunroad Hotel project for East Harbor Island
The Port of San Diego Board of Port Commissioners has granted concept approval for a 450-room hotel development by Sunroad HIE Hotel Partners L.P. and has also authorized the issuance of a Coastal Development Permit for the project.
The area for Sunroad's development includes what is known as the Elbow Parcel, approximately 7.55 acres in the shape of an elbow at 851 Harbor Island Drive in San Diego at the northeast corner of Harbor Island Drive and East Harbor Island Drive west of Safe Harbor Sunroad Marina.
Sunroad's project is anticipated to break ground in late 2023 and could open, based on the current estimated timeline, by late 2025. Sunroad's development consists of a 450-room hotel with two yet-to-be-determined brands: a 12-level wing with extended stay rooms and a 15-level wing with limited-service rooms. Amenities open to the public would include a walk-up restaurant and bar area accessible via the sidewalk on Harbor Island Drive, designated public parking spaces, a 15-foot-wide waterfront promenade, and temporary and permanent mini destinations to draw people to and through the hotel and amenities by creating various activating uses, such as artwork, benches, mobile carts for retail/specialty items and/or food and game/exercise spots.
TOP PHOTO: Conceptual rendering courtesy of Sunroad Enterprises and Carrier Johnson + Culture.
Two San Diego prosecutors appointed to the
San Diego County Superior Court bench
Mark Cumba, left, and Michael Pulos
Gov. Gavin Newsom has appointed two San Diego prosecutors as judges on the San Diego County Superior Court.
Mark T. Cumba, 48, has been a supervising deputy attorney general at the California Department of Justice, Office of the Attorney General since 2020, where he has served as a deputy attorney general since 2012.
He fills the vacancy created by the retirement of Judge Charles G. Rogers. Cumba is registered without party preference.
Michael P. Pulos, 42, has been a supervising deputy attorney general at the California Department of Justice, Office of the Attorney General since 2018, where he has served as a deputy attorney General since 2012.
He fills the vacancy created by the retirement of Judge Randa M. Trapp. Pulos is registered without party preference.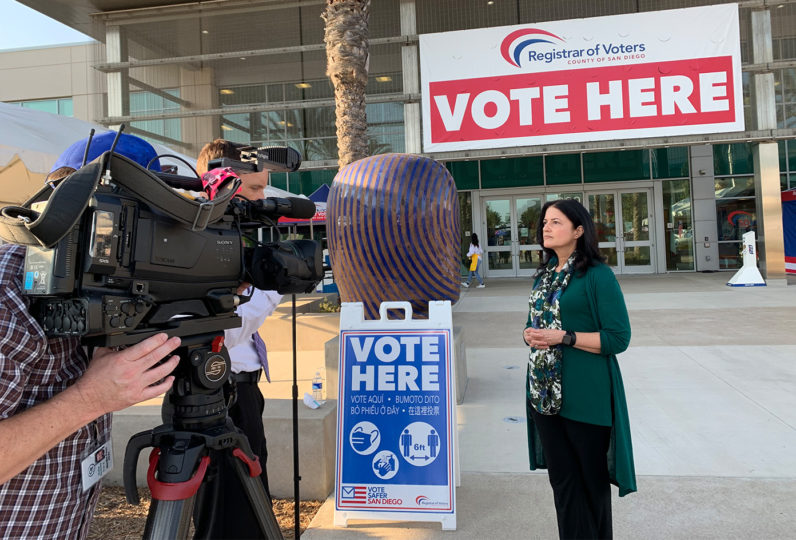 Registrar of Voters Cynthia Paes appears before the media.
Cynthia Paes appointed the new
San Diego County registrar of voters
No stranger to running local elections, Interim Registrar Cynthia Paes has now been appointed as the new San Diego County Registrar of Voters.
Paes has been acting as interim registrar since January and has shepherded her team through four elections, including the recent statewide gubernatorial recall election.
Paes also successfully launched several firsts after the Board of Supervisors decided to move the County to the Voters Choice Act.
All of the County's 1.97 million voters received mail-in ballots during the recall election. Assigned polling places were replaced with voting locations allowing voters to cast their ballot at any one of more than 200 sites and ballot marking devices were introduced to all in-person voters.
Paes started with the county in 2002 with the Health and Human Services Agency. In 2011, she became the chief deputy of the Election Services Division and within two years, she was promoted to assistant registrar of voters. She became the interim registrar when the former registrar, Michael Vu, became the county's assistant chief administrative officer.
California gets small share of infrastructure bill
By Dan Walters | CalMatters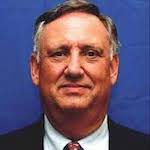 Dan Walters
California will receive about $45.5 billion from the infrastructure improvement legislation that Congress approved last week, which sounds like a lot of money.
In fact, it's the largest share of the $1.2 trillion program of any state and President Joe Biden wants Californians to be appreciative.
"The historic Infrastructure Investment and Jobs Act will make life better for millions of California residents, create a generation of good-paying union jobs and economic growth, and position the United States to win the 21st century," the White House said in a statement detailing the state's share.
From a relative standpoint, however, California's allocation is small. At just over $1,200 per Californian, it's one of the lowest of any state. States with relatively small populations, such as Alaska and Vermont, benefit the most on a per-resident basis.
Read more…
Lucinda Lilly named 2021 Certified Property
Manager of the Year for San Diego County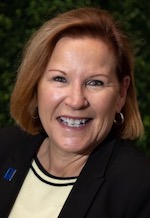 Lucinda Lilley
Lucinda Lilley, vice president of FBS Property Management, has been named 2021 Certified Property Manager of the Year by the Institute of Real Estate Management.
The award was announced at the 2021 IREM Global Summit in Las Vegas, Nevada.
"I'm stunned and humbled to win this international honor," said Lilley, who – in addition to her executive role at FBS Property Management – is president of the Southern California Rental Housing Association.
"At FBS Property Management, our market niche is designed for thoughtful and strategic independent real estate owners," Lilley said. "We're also committed housing providers and we take great pride in helping residents find their next home."
Lilley dreams of evolving the real estate management profession to become equally human-centric as well as profit-centric. To get there, she's been leading her organization with people-driven management concepts that bring out the best in people, resulting in greater revenue generation.
Buchalter law firm grows to 30 attorneys:
Sanjay Bhandari, Byrne Spradling,
and Gary Spradling join the team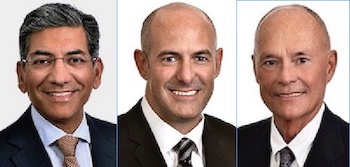 Sanjay Bhandari, left, Bryn Spradling, center, and Gary Spradling
Buchalter law firm has added three new attorneys to its San Diego office. Sanjay Bhandari joins as a litigation shareholder. Bryn Spradling joins as a shareholder in the Corporate and Health Care Practice Groups, and Gary Spradling joins the firm's Health Care Practice Group..
Bhandari is a former federal prosecutor, a former Securities & Exchange Commission attorney, and an experienced trial lawyer in criminal and civil cases. His practice focuses on government investigations, white-collar defense, and intellectual property litigation.
Bryn Spradling practices general business, corporate, and health care law, focusing on contractual arrangements in business transactions, representing both individuals and entities, with a large portion of his practice involving clients in the health care field.
Gary Spradling focuses on providing expert counsel to clients in the health care field in connection with selection of the appropriate entity for the start-up of their business in order to achieve their desired business objectives. He works closely with clients in all phases of their business.
Buchalter opened the San Diego office in 2018. The Firm added 12 attorneys in San Diego this year alone, bringing its total in San Diego to 30 attorneys.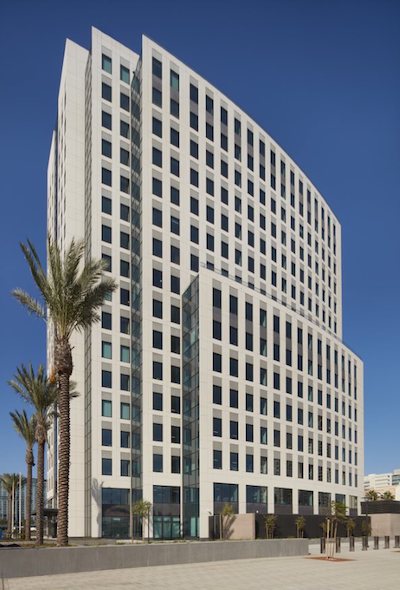 Navy General Administration Facility
Turner Construction-built Navy General
Administration Facility wins awards
The Navy General Administration Facility in San Diego that was built by Turner Construction Company has received two industry awards. The project won a National Award of Merit in the Federal, State, County, Municipal category by the Design-Build Institute of America. It also received a Regional Best Project Award in the Government/Public Building category from Engineering News-Record.
The design-build Navy General Administration Facility building is a Class A, build-to-suit high rise, which serves as the new administrative offices for 1,700 Navy
employees including the Southwest Command. The 376,424-square-foot building rises 17 stories with views of San Diego Bay.
The building includes 344,000 square feet of office space, a 2,359 square foot private gym and yoga studio, and a 1,759-square-foot break area on level 9.
The building contains a command center with raised-floor cabling and emergency power provisions. A subterranean parking garage with 459 spaces for Navy employees is included.
San Diego Realtors group hosts
tour of local properties
In conjunction with the national convention of Realtors taking place in San Diego this week, the International Real Estate Committee of the Greater San Diego Association of Realtors is hosting a tour of San Diego properties and a Global Real Estate Celebration for foreign real estate professionals.  
On Sunday, Nov. 14, SDAR and the Mainstreet Organization of Realtors from Illinois will tour with attendees of the convention from foreign countries to view recent and upcoming developments in Downtown San Diego, followed by a tour of new developments in South County. The purpose is to raise San Diego's profile among foreign nationals and encourage investment in San Diego residential and commercial properties.  
"In the past two years, foreign buyers have purchased more than 250,000 residential properties in the U.S., amounting to over $125 billion in transactions," said Matias Susel, chair of SDAR's International Real Estate Committee.
San Diego LabRats receives $25,000
sponsorship from Ting Internet
San Diego LabRats, an Encinitas based nonprofit that teaches science, technology, engineering, art and math, has received a $25,000 sponsorship from Ting Internet, a division of Tucows Inc., and, a leading fiber internet provider in the U.S.. The sponsorship will provide funding for 700 ESL and Title I scholarships that will be distributed by the end of 2021. 1. and will be used to raise awareness of LabRats' innovative STEAM Discovery Center in Encinitas.
The sponsorship makes Ting Internet the "presenting sponsor" for all social media marketing for San Diego LabRats until the end of 2021. The campaign will include launching a new version of the LabRats website, an email marketing campaign, and promotion across all social media channels. The sponsorship will also fund access for students to BrainStemTV.org, which provides video lab lessons for students in the Solana Beach and Encinitas markets.
Motto Mortgage Mint
now open in San Diego
Motto Mortgage, a San Diego mortgage brokerage franchise focused on customer service, transparency and compliance, has a new office in San Diego. Motto Mortgage Mint is now open and serving all markets throughout the Golden State. It is located at 9474 Kearny Villa Road, San Diego 92126.
Motto Mortgage Mint is a customer-first, full-service mortgage brokerage established by Jericha Jose, who has more than 20 years of experience in mortgage lending and the real estate industry. She specializes in first time homebuyer loans, jumbo loans, purchases, and refinances. Jose has helped homebuyers in both the San Diego and San Francisco areas achieve their mortgage goals. 
Loan originators in the Motto Mortgage network have access to competitive loans from various wholesale lenders and work hard to give homebuyers choices because no loan is one-size-fits-all.
San Diego and Tijuana selected
as 2024 World Design Capital
The San Diego-Tijuana region has been selected as the World Design Capital for 2024 by the World Design Organization (WDO). The selection of the San Diego-Tijuana joint bid makes it the first binational World Design Capital in WDO history. While the designation is for both cities as a united region, San Diego is now the first U.S. city ever to receive the WDC designation. Tijuana is the second city in Mexico to hold the title, following Mexico City in 2018.  
The winning bid is the result of a multi-year effort led by a binational team of designers, innovators and civic leaders to help San Diego-Tijuana showcase its design-driven, innovative culture and economy. The bid campaign, known as HOME 2024, demonstrates how the San Diego-Tijuana region mobilizes human-centered design to address major global problems like climate change and social inequity through engineering, science, art, architecture and more. 
Cubic earns 2022 Military
Friendly designation
Cubic Corporation has earned the 2022 Military Friendly Employer Gold designation, ranked in the top ten Military Friendly Supplier Diversity Program and designated as a Military Friendly Brand.
Institutions earning the Military Friendly Employer designation were evaluated using both public data sources and responses from a proprietary survey. Over 1,000 companies participated in the 2022 Military Friendly  survey.
Cubic will be showcased along with other 2022 Military Friendly  Employers in the December issue of G.I. Jobs  magazine and on www.MilitaryFriendly.com.
Guild Mortgage receives J.D. Power
Award for customer satisfaction
Guild Mortgage, a mortgage lending company that has originated and serviced residential loans since 1960, is the recipient of the J.D. Power award for "Highest in Customer Satisfaction with Primary Mortgage Origination in the U.S.," in its 2021 Primary Mortgage Origination Satisfaction Study.
The study is based on responses from 5,414 total respondents in June through September 2021 for customers who originated a new mortgage loan in the past 12 months.