CALIFORNIA TOXICS
Out of state, out of mind
By Robert Lewis | CalMatters
Summary:
A CalMatters investigation finds that environnentally stringent California sends nearly half its toxic waste across its borders, often to states with weaker rules. One of the biggest out-of-state dumpers: the state's own hazardous waste watchdog.
_________________________________________
In September 2020, workers in Brawley near the Mexico border began loading dump trucks with soil from the site of an old pesticide company. As an excavator carefully placed the Imperial County waste into the vehicles, a worker sprayed the pile with a hose, state records show. Another was on hand to watch for any sign of dust. The trucks then drove through a wash station that showered dirt off the wheels and collected the runoff water.
There was a reason for such caution. Shipping documents indicate the soil was contaminated with DDT, an insecticide the federal Environmental Protection Agency banned decades ago and that research has linked to premature births, cancer and environmental harms. The Brawley dirt was so toxic to California, state regulation labeled it a hazardous waste. That meant it would need to go to a disposal facility specially designed to handle dangerous material – a site with more precautions than a regular landfill to make sure the contaminants couldn't leach into groundwater or pollute the air.
At least, that would have been the requirement if the waste stayed in California. But it didn't.
Instead, the trucks – carrying nearly 1,500 tons of California hazardous waste – rumbled just over the Arizona border to the La Paz County Landfill, a municipal solid waste dump several miles from the Colorado River Indian Tribes' reservation.
The journey is a familiar one for California's toxics. Since 2010, nearly half of California's hazardous waste has left the Golden State, according to figures the state released last summer.
Read more
Top Photo: California has disposed of about 400,000 tons of contaminated soil at the South Yuma County Landfill in Arizona since 2018, according to California's hazardous waste tracking system. (Photo by Miguel Gutierrez Jr., CalMatters)
Natilus signs deal with Ameriflight to buy
20 cargo aircraft, bringing total orders
to $6.8 billion for 460-plus aircraft
Natilus, a San Diego-based corporation designing and producing the world's first autonomous aircraft for efficient and sustainable freight transport, has announced that Ameriflight, an industry leader in freight operations, has become the first regional U.S. carrier to sign an Aircraft Purchase Agreement with Natilus. The Ameriflight agreement for 20 Natilus Kona feeder aircraft valued at $134 million brings total commitments to $6.8 billion for delivery of 460+ aircraft.
According to Natilus, its fleet of carbon fiber, blended-wing-body designed cargo aircraft offers a 60 percent reduction in the cost of operations and cuts carbon emissions by half —enabling the opening of new and emerging markets in remote areas where larger aircraft do not have the runway capacity and/or infrastructure to land, through both scheduled and specialized operations. This will provide needed medicines, food, and other important goods to develop these outlying areas.
San Diego Press Club elects 2023 board of directors
Nicole Vargas
The San Diego Press Club has announced its board of directors for 2023. Nicole Vargas, associate professor at San Diego City College, will lead the board as its president
Other members of the executive committee are:
• First Vice President: Andrew James, San Diego Zoo Wildlife Alliance
• Second Vice President: Sarah Austin, TW2 Marketing
• Treasurer: Cliff Albert, KOGO News Radio
• Secretary: Albert Fulcher, Integrity Newspapers Inc.
• Immediate Past President: Eileen Gaffen, Steres Gaffen Media
SCORE workshop on The Art of Negotiating
Almost everything in our business lives revolve around negotiating. Negotiating with landlords, suppliers, customers, etc.. Negotiating today has become as much a science as an art. Learn about such negotiating principles as BATNA (Best Alternative To No Agreement); Negotiations as a process, not an event; Negotiating from a position of strength, Planning for a negotiations session, and numerous negotiating tactics.
This San Diego SCORE workshop on Feb. 1 will be held at 9 a.m. at SCORE San Diego, 8825 Aero Drive, Suite 102, San Diego 92123.
Register now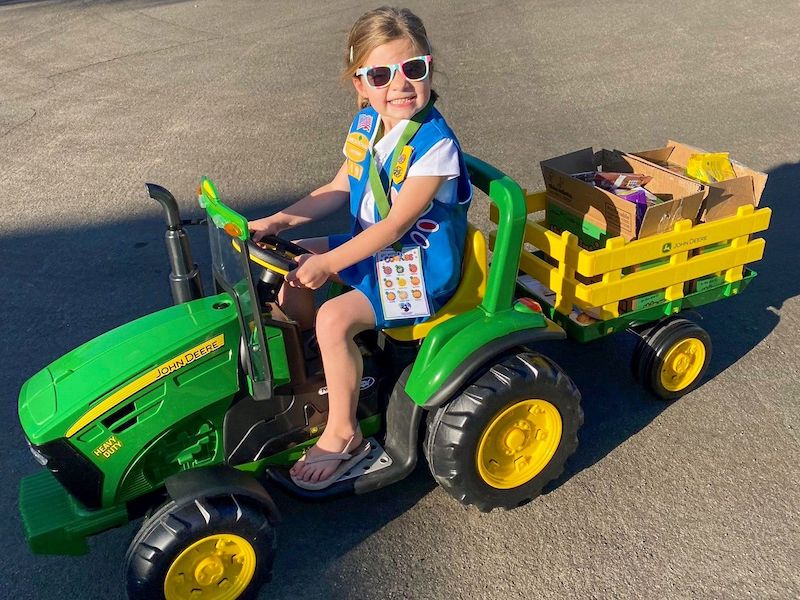 Girl Scout Cookie deliverer. (Photo courtesy of Girl Scouts San Diego)
Girl Scouts San Diego kicks off
2023 Girl Scout cookie sale program Jan. 29
On Sunday, Jan. 29, Girl Scouts San Diego will kick off the 2023 Girl Scout Cookie Program in San Diego and Imperial counties. Through Sunday, March 12, Girl Scouts and troops will rally their communities, neighbors, and friends to support the world's largest girl-led entrepreneurial program by purchasing Girl Scout Cookies, which are $6 per package and available in 10 varieties.
By participating in the cookie program, girls learn five essential life and business skills—goal setting, decision making, money management, people skills, and business ethics—while growing in confidence and leadership. Since 100 percent of cookie program proceeds stay within the San Diego and Imperial Valley region, every package of cookies sold helps fund invaluable experiences for local Girl Scouts like service projects, troop travel, and summer camp.
"We are ready to embark on another exciting cookie season, and this year, we anticipate having more than 9,000 ambitious Girl Scouts engage in the program," said Carol Dedrich, CEO of Girl Scouts San Diego. "With support from the community, Girl Scouts are on track to hit an impressive milestone of reaching a cumulative 4 million packages for Operation Thin Mint, a service project that has benefitted military troops and veterans for more than two decades."
SDSU's online education master's 
program ranks 7th best in the nation
San Diego State University's online education master's program is No. 7 in the nation, according to a new annual ranking from U.S. News & World Report, up one spot from last year and its highest position ever.
The ranking in the 2023 Best Online Programs, released Tuesday, marks the third top-10 ranking in four years for the College of Education program.
One factor helping to propel the ranking is the fact that two programs now factor into the metrics. Last year's No. 8 ranking was solely on the strength of SDSU's online Master of Arts in teaching (MAT), a one-year program in elementary and secondary curriculum and instruction.
Farmers Insurance donates $100,000
to Armed Services YMCA of San Diego
SAN DIEGO — Farmers Insurance, an organization founded by two World War I veterans in 1928, celebrated San Diego's military community Thursday by donating $100,000 to the Armed Services YMCA of San Diego—the first installment of a five year, $500,000 commitment to help the ASYMCA build a new facility in Murphy Canyon that will serve military families for years to come. The announcement was made as Farmers executives, employees, agents and district managers volunteered to help provide food and supplies for local military members and their families during the ASYMCA's Neighborhood Food Exchange event.
Garbatella Osteria Bar now open in Otay Ranch
New Italian restaurant Garbatella Osteria Bar is now open in the Otay Ranch Town Center in Chula Vista. Garbatella Osteria is owned by two husband-wife duos, Antonio Luiu and Diana Gonzalez, and Saul Plata and Carelma Rodriguez. After three decades of operating restaurants in Mexico and Canada, this is their first U.S. concept. Garbatella Osteria Bar is a 206-seat restaurant that offers a full bar, event space, outdoor patio area, and Italian cafe. It features an imported Italian wood-fire pizza oven, private wine lockers and live music. The menu will reflect a true Italian experience and the food that Luiu was raised on.
Feeding San Diego hosts annual culinary event
SAN DIEGO — For the first time since 2019, Feeding San Diego will host its annual culinary event to raise funds for its year-round hunger-relief programs. Keeping the name Pairings with a Purpose, the reimagined event will be a community-centric dinner party with dishes created by powerhouse chefs Angelo Sosa of Top Chef fame, and Ruffo Ibarra, who was recently tapped to lead the new food and beverage program at downtown's The Guild Hotel. Guests will enjoy a 4-course culinary exploration on the patio of The Conrad Prebys Performing Arts Center in downtown La Jolla. The fundraiser takes place on Thursday, March 2 from 6 to 9 p.m. 
Capstone Advisors announces entitlement
of master plan community in Reno, Nev.
CARLSBAD – Capstone Advisors, a diversified real estate investment, development and advisory firm headquartered in Carlsbad, announces the entitlement of its newest master plan community, Highlands, located in the northern area of Reno, Nevada. Capstone Advisors will develop the property located near U.S. Route 395 and Sky Vista Parkway for single-family residential, multi-family, and commercial uses, adding much-needed housing and additional retail and commercial uses to this rapidly growing region.  Visit CapstoneAdvisors.com for more information. 
Amplifica expands pipeline for hair loss
SAN DIEGO — Amplifica Holdings Group Inc., a privately held, clinical-stage biopharmaceutical company announced the signing of an exclusive license agreement with The Regents of the University of California for a proprietary pipeline product that expands upon research in hair biology. "Amplifica is focused on identifying and developing solutions for androgenic alopecia and this expanded agreement with the University of California is another example of the company's pursuit to combat hair loss," said Frank Fazio, president and CEO.
Ionis chief scientific officer to receive Rainwater Prize
CARLSBAD – Ionis Pharmaceuticals Inc., announced that Chief Scientific Officer C. Frank Bennett has been named a co-recipient of the Rainwater Prize for Outstanding Innovation in Neurodegenerative Disease Research. Bennett shares this year's prize with Don W. Cleveland, professor of cellular and molecular medicine at UC San Diego, and Timothy M. Miller, M.D., vice chair of research and David Clayson professor of neurology at Washington University School of Medicine. The prizes will be presented during the Eurotau 2023 conference on April 27, 2023, in Lille, France.
HCAP Partners successfully exits investment in Veyo LLC
SAN DIEGO – HCAP Partners, a California-based private equity firm and nationally recognized impact investor, has successfully exited its investment in Veyo LLC, a non-emergency medical transportation company. Veyo was established in 2016 with a mission to reinvent the traditional NEMT model by utilizing data, technology, and their IDP model to improve access to care. During its investment, HCAP Partners led an effort to establish a board of directors and helped the company explore potential lines of businesses through strategic partnerships.
Scripps Health Radiation Therapy Centers
named Patient Safety Center of Excellence
MELBOURNE, Fla. – Sun Nuclear, a wholly-owned subsidiary of Mirion Technologies Inc., has designated Scripps Health as a Patient Safety Center of Excellence. This designation marks Scripps as a leader in the advancement of Quality Management and Medical Physics in Radiation Therapy and acknowledges their exemplary pursuit of patient safety. The Radiation Oncology team at Scripps treats approximately 2,700 new patients per year in San Diego County, across four sites, including eight linear accelerators. 
Shawn Levy elevated to chief scientific
officer at Element Biosciences
SAN DIEGO — Element Biosciences Inc., the developer of an innovative DNA sequencing platform disrupting genomics, announced the promotion of Shawn Levy  to chief scientific officer and senior vice president of applications. A world-renowned pioneer in genomics research, Levy has over 20 years of experience in genomic applications development and technology optimization, along with operational management of research, development, and clinical testing programs. He joined Element in February 2022 as SVP of applications and scientific affairs.