Home stagers lift the curtain on how to make it big in a booming sector.
For some, the mark of a successful interior designer is the ability to harness a client's needs and desires into a perfect marriage of function and form. But for home stagers, the measure of success could not be more different. Staging is about making a home accessible to anyone who might walk in, removing the personal details that designers excel at, and instead leaving just the hint of a potential life that a prospective buyer could live. "The biggest misconception about staging is that all it takes to do it well is being good at decorating," says Fairfield County, Connecticut–based stager Leia T. Ward. "People think, 'I'll put some stuff in and make it look pretty.' It's not that at all. It's more like a form of strategic marketing."
That business-forward mindset has proven integral to the success of Ward's firm, LTW Design, which stages vacant luxury properties in the greater New York area. It's a money-making venture, first and foremost. Stagers are brought in to help a property sell faster and, hopefully, for more than the asking price. According to HomeAdvisor, staged homes will spend 33 to 50 percent less time on the market. A similar survey of the National Realtors Association in 2021 found that 23 percent of buyers' agents said that home staging raised the dollar value offered between 1 and 5 percent compared with similar homes on the market that hadn't been staged—a number that may seem insignificant, but which can represent a six-figure difference in the luxury market.
"Home staging has become a real industry," says Meridith Baer, founder of the pioneering Los Angeles–based staging firm Meridith Baer Home. "I often look at an empty property listing, going, 'What are they thinking? They're leaving so much money on the table.' Because when a buyer walks into a staged home and really falls in love and their heart starts pounding, they're going to make a much better offer."
Building Up 
Home staging used to be a relatively quirky concept. Homes for sale were either vacant or filled with the current homeowners' belongings, the closets stuffed with hastily stashed ephemera they wanted out of sight during a showing. Staging exists somewhere between the two and has become increasingly popular as the real estate market has heated up and then cooled. Particularly for real estate developers and investors in the luxury sector trying to court the uber-wealthy, staging is a means of making a property stand out and spark that emotional rush Baer described.
"There's a lot of value in having someone come in who understands what buyers are looking for," says Candace Griffin of Chicago-based design and staging firm Candace Mary Interiors. "I think staging has shifted from being, 'This is where you could put a sofa' to a broader concept of, 'We're going to show you how you could live your best life here.'"
For Ward's part, she sees herself as a partner to the real estate agent and home-owner, with everyone chasing the same goal: a nice profit. "We're all here to make money, so let's market this house as best we can and all walk away happy," she says.
Staging is still relatively new as a bona fide career option—consequently, most people seem to fall into it. Baer, for example, did such a good job styling her own rental house in the late 1990s that her landlord sold the place. She moved into a house that a friend had been struggling to sell, volunteering to fix it up in exchange for staying there for free. With Baer's touch, the previously languishing house sold for $500,000 over asking. Brokers took notice and all of a sudden, Baer was in business. "I would get paid up front and then run around like crazy trying to buy or borrow furnishings," she recalls. "I went to The Home Depot and asked employees if I could pay them to help me move furniture from house to house. It took about a year before I found my footing and realized I'd started a company."
Ward found her way into staging after discovering a knack for styling her own home. With three kids under five, she wasn't interested in learning how to become an interior designer; her father suggested that she look at staging instead. Intrigued, she started taking an online class at night after her kids went to sleep. "With three little kids, I wasn't sleeping anyway," she jokes. "It was important to me that I knew the business side of the industry before I got started. I wanted to know how to charge and how to make a profit."
Profit, it turned out, was an elusive goal in the beginning. Building up inventory—enough to fill not just one home but multiple listings—is a big, costly hurdle to running a staging company. "It's really front-loaded," says Ward. "I didn't realize when I started my business in 2017 how long it would take to make money, because to do even one job you have to buy a house's worth of furniture. And then, when the property sells, where are you storing that furniture? So you also have to get a warehouse, and then you have a warehouse bill to pay, so you have to hope to keep getting enough jobs to pay for storage. Meanwhile, you only have enough for one house, right? One project at a time is not sustainable. You have to buy more furniture so you can stage multiple houses in order to turn a profit."
Reinvesting most, if not all, of your profits back into the business is crucial in the beginning. "You have to build that inventory piece by piece," says Griffin. "Ideally, you'd be able to go out and buy everything at once, but I think having to do it more slowly helped me to curate my selection and figure out what I really needed. If I had bought everything at once, I would have run into issues like a piece being too heavy to be constantly moved in and out, or too awkward to fit in a high-rise elevator. Going slowly gave me a chance to learn what worked."
Stagers go about building up inventory in different ways. Corban Torstenson of The Here Company, who specializes in decking out homes in Los Angeles's funky east side neighborhoods, goes antiquing in order to pepper her spaces with one-of-a-kind pieces. Griffin shops wholesale and retail vendors, and even snags trendy, of-the-moment accent pieces at HomeGoods. Behemoth firms like Interior Marketing Group, which is based in New York and Miami and boasts a 65,000-square-foot warehouse with enough inventory for roughly 150 listings, have their own in-house fabrication departments in addition to teams that attend trade shows and shop wholesale.
Aesthetically, stagers will often tailor the furnishings to the home to align with the locale, just as a designer would. If Baer has a listing in Aspen, Colorado, her team is going to tap into a different set of furniture than they would for, say, a listing in Palm Springs, California. For stagers with a more regional market, investing in pieces with a broader appeal is a savvier choice. Ward, for example, has developed a signature look with crisp, white furniture and a mix of black or natural wood accents—a look so distinct that a local real estate agent recently told her that he could tell which listings were done by LTW Design. There is a subset of stagers who take inventory out of the equation altogether, using only a homeowner's existing furnishings, or offering consultations in lieu of full stages. Griffin offers such a service, where she walks through the house with the real estate agent or owner and makes suggestions on what should stay and what should go. "It's noticing things like, 'OK, if we move this here, it's going to let more light in or create an easier path," says Griffin. "It's a strategic puzzle, figuring out how to use what's already there and make it look as good as possible."
Ward prefers to stage from scratch and isn't afraid to set boundaries with her clients, letting them know when it's not appropriate to use their own belongings. "It's important as a stager to not be micromanaged by a real estate agent or a homeowner," she says. "You have to be able to draw a line while still being sensitive because it is often an emotional situation. Not all clients are excited to be putting their house on the market—maybe someone died or they're getting a divorce—it's not always, 'We're selling and moving up.' But while it's important to be empathetic, at some point, you have to put your foot down and say, 'I know you love your grandmother's old hutch and it means a lot to you, but it doesn't mean a lot to other people.' Ultimately, you have to help them understand that it's not their house anymore."
Candace Griffin's furniture placement maximizes the floorplan while deploying classic staging techniques like placing large mirrors across the room from windows to give the illusion of more natural lightCourtesy of Jackie Blair
On Track
Once you build up a sizable inventory, you have to figure out how to keep track of it all. Most staging firms use an inventory management system called Stageforce, which allows the company to tag pieces and creates a data-base with details like location, usage history and condition. Stageforce uses QR codes, allowing pieces to be easily scanned as they come and go from the warehouse. Some stagers prefer other methods, either for ease of use or because of the time and effort it takes to build a robust record-keeping system. Torstenson uses Stageforce occasionally, but still largely relies on Google Sheets to track her items. Dallas-based stager Nikki Watson of The Design Quad says her team often uses project management platform Trello. "Stageforce can be great, but it is another thing that takes time and money to get up and running and used to," she says. Though she's trying to shift her operations to Stageforce, her business has grown so quickly that having her team scan each and every piece arriving and departing sometimes isn't feasible. Instead, they signed up for the free edition of Trello, posting pictures of each staged property and using the platform to track what went where. "Trello has been the best thing for our firm," she says. "A lot of companies with a smaller volume have inventory management down to a science. They can look at their platform and say how much everything in the house costs, down to the flower arrangements. We do six houses a day, every day, so the time it would take to scan every item is not worth it for us."
Another learning curve is finding reliable movers who understand the nature of staging work. Additional labor costs, especially, took a while for Torstenson to navigate. "Overhead is hard to pinpoint, even eight years into my business," she says. In the beginning, she was using regular storage units to house her inventory, but it was taking movers too long to get items in and out. "If something was all the way in the back, that's more time I'm paying for," she says. "A warehouse is more expensive up front, but you're not paying movers as much." Another turning point was getting in with a good local moving company—and finding a crew that was willing to forgo tips in exchange for a steady stream of work. 
Many of the larger firms have brought moving services in-house. "Dealing with a moving company is a job in itself," says Ashley Quinn, the vice president of creative services at IMG. "We often have multiple jobs on a given day, which would be really difficult with contracted movers. We ultimately needed more control over both the timing of moves and the care of our inventory."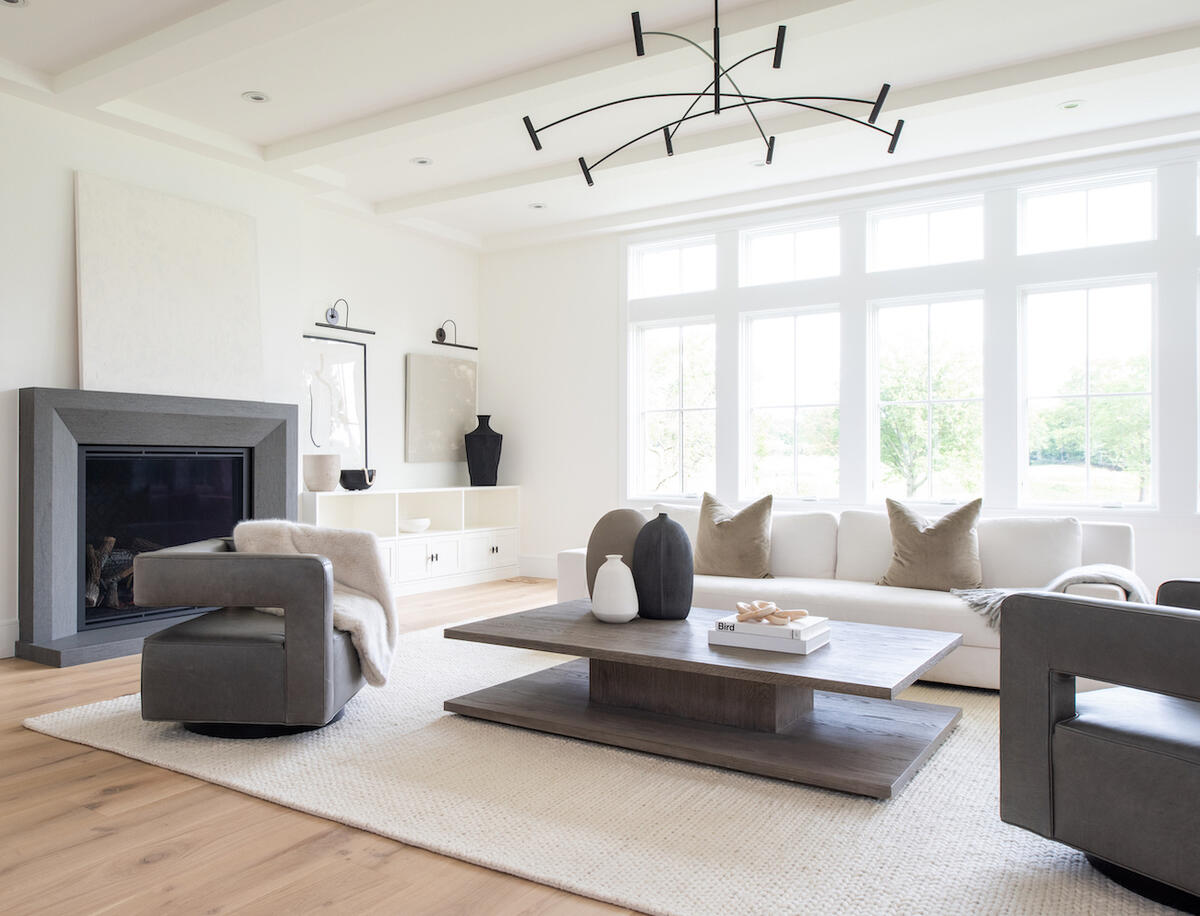 Leia Ward uses a mix of textures and geometric forms to add visual interest without detracting from the surrounding architectural featuresCourtesy of LTW Design
Roll It Over
Because staging furniture is regularly moved, it has more wear and tear, and a firm's inventory frequently needs to be refreshed. Ward has an annual warehouse sale where she sells gently used pieces to make room in the rotation for new stuff. Baer's firm donates old stock to Habitat for Humanity. Thanks to years of supply chain disruptions, the latest method for stagers to purge their inventory is for new homeowners to buy the staged home as is. "We've been selling more furniture than ever before," says Quinn. "Without fail now, at least some of the pieces on any given listing are purchased by the new owner." According to Baer, the volume of furniture that her firm has been selling over the past few years has risen markedly. "Everything in our listings has always been for sale, but since the onset of COVID, we've been selling an enormous amount of furniture to buyers, brokers or even the next-door neighbor. It makes sense, especially for people buying second or third homes—they want to start using the home as quickly as possible, so it's easier just to pay for the furnishings and leave it all installed."
As staging has become more refined, it has also become more commonplace for homebuyers to inquire about design services. The skill set may be fundamentally different—design that appeals to the masses rather than design tailored to an individual. But from the client's perspective, it makes sense: If you like the way a house is staged, it's only logical that you'd be interested in having the stager complete the look. Ward was hesitant to offer interior design in the beginning but eventually relented. "I was saying no to people [at first] because we were not a design firm and I knew that was a whole different animal," she says. "But I realized that the people making those inquiries—whether buyers or sellers—loved the work we were doing, so why not?" Ward quickly assembled a design department, hiring a junior designer to tag team those projects with her.
Griffin was initially attracted to staging, but soon found that her work could double as a launchpad to build up a portfolio. "I would leave my business cards at the homes I staged, which is how I got my first few design clients," says Griffin, who now has a robust business offering both services. "Some of them were buyers and others were people who did walk-throughs and kept my information. One of the cool things I found was that buyers would not only want to purchase the furniture; they'd reach out and want to build on what I'd already done. It's happened a lot."
Show Me The Money 
The turnaround time for staging is usually fairly tight, with some stagers getting weeks to pull a look together, and others merely days. Stagers tend to get paid up front by a client (whether that's the homeowner, a real estate agent, developer or broker) in order to rent furniture for a set amount of time—usually somewhere between three and six months—with fees generally based on the square footage of a property. Ward makes sure her team is paid a week before a move-in, before the truck is even loaded. "We want it to be a seamless experience for the client," she says. "They leave, we come in—it's done. They don't have to think about it again."
Watson learned the hard way how critical it is to include a buffer for move-out time in her company's contract. "We would get calls saying, 'You have to get the furniture out tomorrow,' and we'd have to scramble to get movers," she recalls. "Now, we always require a minimum of five days' notice to vacate."
Longevity as a stager requires building a network so that referrals offer a steady stream of new business. To that end, maintaining relationships with local real estate agents is another key aspect of developing the business. Much like in interior design, word of mouth plays a big part of getting staging jobs—if you get in with one agent and help a property sell quickly and profitably, chances are they'll recommend you to their peers. Watson has developed another means of networking, offering complimentary design-trend presentations to local real estate firms, which gives her a chance to position herself as an expert. "It's a great way to stay in front of them," she says.
Tricks of the Trade 
The root of staging is problem-solving, driven by the quest to make a home more sellable. The best stagers create an ambiance so inviting that prospective buyers get so swept up in the mood that they overlook wonky architectural details or forgive exorbitant price tags. To do that, all stagers have their own bag of tricks.
Ward prefers to use low-profile, modular furniture that can be easily moved around, and that won't obscure sightlines or detract from features like 10-foot floor-to-ceiling windows. Her team makes floor plans for each room, much like a design firm would—but unlike in design, liveability isn't factored into the equation. "For interior design, you'd probably put a TV over the fireplace and the sofa pointing at it, but that might not make sense in a staged home. You want to make sure buyers can see that beautiful fireplace and create pathways that are easy to walk through, and that position home shoppers in ways that will best show off the house. It's not about functionality at all."
As staging has become more mainstream, it has merged with design in a lot of ways. Over the course of Quinn's decade at IMG, she has seen tricks like using window treatments to make windows look bigger and enhancing natural light with mirrors appear in design magazines and on social media. "I think staging has infiltrated interior design in a lot of ways," says Quinn. "There's more emphasis than there used to be on making spaces look bigger, brighter and more grand. You can see the two schools merging."
Certain aesthetic elements will always be in vogue for both staging and interior design. No homebuyer, for example, is going to walk through and say, "I wish there was less natural light." To that end, Watson always attempts to ignite the buyer's imagination. "I won't fully set a table, but we'll leave out a stack of plates and some table linens to suggest you could be getting ready to entertain, and we'll do that on a certain side of the table so that your eye is drawn to the next room. We're creating moments that are crucial to a buyer's decision making."
Homepage image: When Meridith Baer's firm was tapped to stage the Beverly Hills home of beauty mogul Kylie Jenner, the designer's team was inspired by the reality star's signature lip kit | Courtesy of Nils Timm